Let it Snow
Canberra Grammar's new Snow Concert Hall is a beautiful performance space, handsomely serviced by a high-level AV spec.
Text:/ Christopher Holder
It's what every school needs: a billionaire benefactor. Canberra Grammar has Terry Snow, the octogenarian alumnus who made his fortune in business, including his interests in the Canberra Airport. Which explains why the school's new multi-purpose performing arts centre bears his name. 
The Snow Concert Hall is an architectural statement. The Cox Architecture design takes the auditorium underground, helping to integrate a geothermal heating/cooling system in the process. The 1400-seat acoustically tuned concert hall is a Marshall Day design, eschewing acoustic absorption (drapes and the like) in favour of creating a space suitable for acoustic performances.
Of course, this is more than a recital hall, it's a school hall, so the spec also included a capable Tier 1 line array loudspeaker system.
GOOD ADVICE
Canberra-based Sound Advice came in as the AV integrator, and pitched the school the idea of installing a Fohhn beam-steered array. Sound Advice boss, Norman Korte, has been using Fohhn for years now, is a big proponent of the German purveyor of specialised beam steering systems, and suspected the slimline nature of the Fohhn solution would visually go down a treat.
"I'm a fan of the product. We're actually doing quite a few gigs at the moment with Fohhn. I mean, it's not a cheap product, but it's a very, very good product and the beam steering aspects are extremely good.
"Fohhn gave us a proper prediction of the Focus Venue speakers in the Snow Auditorium, which requires coverage of the mezzanine level as well as the main floor.
"My thought was: this is going to give us a better result from an aesthetics point of view and the sound quality is going to be extremely impressive."
The design combines an array of Fohhn FM100 and FM400 elements with two PS800 18-inch flown subwoofers a side.
The system provides superior pattern control to avoid the predominance of hard surfaces, and enough welly to offer sufficient SPL when required, at least for the vast majority of performances.
"Occasionally, we'll hire in some extra audio for the occasional concert, but this PA handles just about everything we throw at it." James Glanville is the house AV supervisor. He recently arrived at the school with experience in live sound production. That experience made him very familiar the usual Tier 1 loudspeaker products. Fohhn wasn't a name he was particularly familiar with and, understandably, had some reservations going into the gig. "I'll admit to being sceptical, but you only have to turn the Fohhn system on and use it to be won over. It's a high quality PA."
TRULY MULTIPURPOSE
It's unusual to have a space that's just as at home hosting an entirely acoustic performance as it is high-SPL amplified sound — the two use-cases are inherently at odds. After all, the Snow Auditorium packs in a 1000-plus noisy kids each week for school assembly, and then acts as a recital centre later in the week where it's expected to regale discerning ears with superior, 'pin drop' sonic clarity and detail.
"It's the Fohhn's beam steering technology that makes this theatre truly multipurpose," asserts Norman Korte. "Even highly accomplished and regarded Tier One line array systems don't offer this kind of pattern control. If we were exciting the room, the audio would be a mess."
James Glanville: "For me, once I actually got my hands on the Fohhn software and spent a couple of weeks digging into it, realising just how easy it is to make adjustments, it was mind blowing. I'm very accustomed to a system where every angle is worked out ahead of time before you hang it… this is not that type of system. You hang it flat and you can make changes in software in real time.
"We had a school 'house band' competition, which is loud and amplified, and I could definitely feel the system was fighting the room — which is highly reverberent. But while the show was happening I was in the Fohhn software making tweaks to pull more sound off the walls. That's an incredible feature. I can see a lot of system engineers looking at this thinking: that could be very, very handy feature, even at scale… even at an outdoor festival."
WHY NOT HAVE BOOTH

 
The audio spec is pretty impressive off stage as well. An Allen & Heath SQ6 fitted with a Dante card takes care of the mix (there's failsafe copper tielines as well as A&H DT168 Dante-enabled stageboxes). A Q-SYS 110f Core provides the DSP brains of the audio system. It acts as a matrix for audio throughout the building. Bose Professional DesignMax in-ceiling and pendant loudspeakers can be found in the public and common areas. The microphone collection is something just about any performing arts centre would be proud of.
CONTROL PROMISE
Sound Advice hopped onto Crestron many years ago and remains a big proponent of its control systems. The control aspects of the project certainly help to fulfil its promise as a truly multipurpose venue that doesn't always need a tech on tap to fire up a basic laptop-based presentation. That said, there's an Advanced mode for James Glanville to allow him to tinker under the bonnet when required.
A 10-inch Crestron TSW-1070 touchpanel is positioned in the bio booth along with two further 10-inch touchpanels in the wings for the stage manager. "Those locations have some control layouts to really suit the stage manager operators," explains Sound Advice's Technical Director, Stephen Nano. "Stage managers can page through the back-of-house audio system via those touchpanels, for example."
""
It's the Fohhn's beam steering technology that makes this theatre truly multipurpose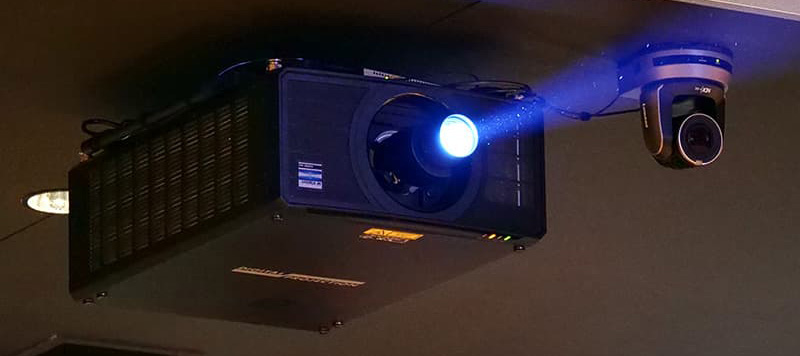 VIDEO OVER IP
Providing further flexibility is an anything-to-anywhere Crestron NVX video-over-IP system. The main display is a Digital Projection M-Vision Laser 210000WU unit fitted with a long-throw lens that fires at a 350-inch Screen Technics motorised screen. Norman Korte explains his choice: "We use Digital Projection DLP projectors where we can, when there is budget. We've found the product support to be excellent over the years and the image is stunning."
There are a further six smaller NEC projectors and 150-inch drop-down screens around the mezzanine to help ensure those seated in the upper level aren't craning their necks to view the main screen.
Further LCD displays are dotted about the back of house and common areas, each with an NVX transceiver behind it to act as overflow areas if needs be.
James Glanville: "A lot of concerts will have visuals on the main screen, something on the mezzanine screens, something on the foyer screen, something on the atrium screen, and having that flexibility to plug in NVX anywhere has been really handy.
"We also have the students' Code Cadets club, which has an interest in broadcast and streaming. Where we can, we'll allow them to run cameras and take care of vision switching and broadcast. NVX allows them to set up their operations effectively anywhere."
For the day-to-day, more hands-off streaming requirements, a Lumens-based camera, control and capture system makes life easy. Three Lumens A61 PTZ cameras, controlled by a Lumens VS-KB30, plumb into a Lumens LC-200 recorder/streamer. The LC-200 provides a multiview output for vision switching and will capture the stream output as well as iso recording.
SILENT OVERHEAD

 
Overhead, four motorised lighting trusses from Theatrequip have impressed James Glanville: 
"I'm accustomed to big, noisy motor trusses in live production but this gear from Theatrequip is whisper quiet — you hear a little click on the way up and one click when they reach the bottom and that's it. The weight distribution is really good at the moment. We're looking to get more more lighting and with the three trusses over the top of stage and one across the front, we've got some space to grow.
A complement of conventional Showtech LED and a selection of spots, carry most of the lighting load. LSC relay wallmount controls with full patching, support the lighting, including outlets down side of stage and on the floor level for any eventuality. An ETC lighting console provides control in the bio booth.
A Listen Technologies RF-based iDSP assistive listening system takes care of audio for the hearing impaired — 10 receivers and a recharge case. A full Green Go comms system rounds out the system, which Norman has been impressed with — that, and the price, which he says well under that of a more traditional comms name brand.
TO WHO MUCH IS GIVEN
I put it to James that more is expected of a school-based venue such as the Snow Theatre than a civic or private hall in the commercial space. He had a perspective:
"I was very impressed with the design and thought behind the performance space. It's a beautiful concert venue. But half the time it's a 'school hall' and needs to be functional in that way. You need to balance the requirements and I think Snow Auditorium does it well."
Certainly James' job is more varied than in his concert touring days. "When I applied for the job I imagined I would be going classroom to classroom turning TVs on. When I was introduced to the Snow Theatre it was a revelation."
MORE ABOUT THE FOHHN PA
The Fohhn Audio system in the Snow Auditorium is the first time the Fohhn Focus Modular has been used in a theatre application in Australia. The system is hung flat, combining the requisite number of high and mid frequency column array modules to cover the room. In the case of the Snow Auditorium, the design combines one FM100 high frequency module underneath two FM400 mid/high frequency modules to cover the entire space without the need for front fill, balcony fill or balcony delay. Two PS800 18-inch subs are flown either side.
The stage monitoring is also a Fohhn Audio solution: "We have four Fohhn XM4 wedges, and they are some of the brightest and tightest foldback speakers I've ever worked with," comments James Glanville. "You can sit one directly in front of your artist and they will hear everything crystal clear. Take one step to the left or right and it's like turning off a switch. It's incredible how tight they are." The floor monitors are powered by Fohhn MA-2.1200 amps.
More for you