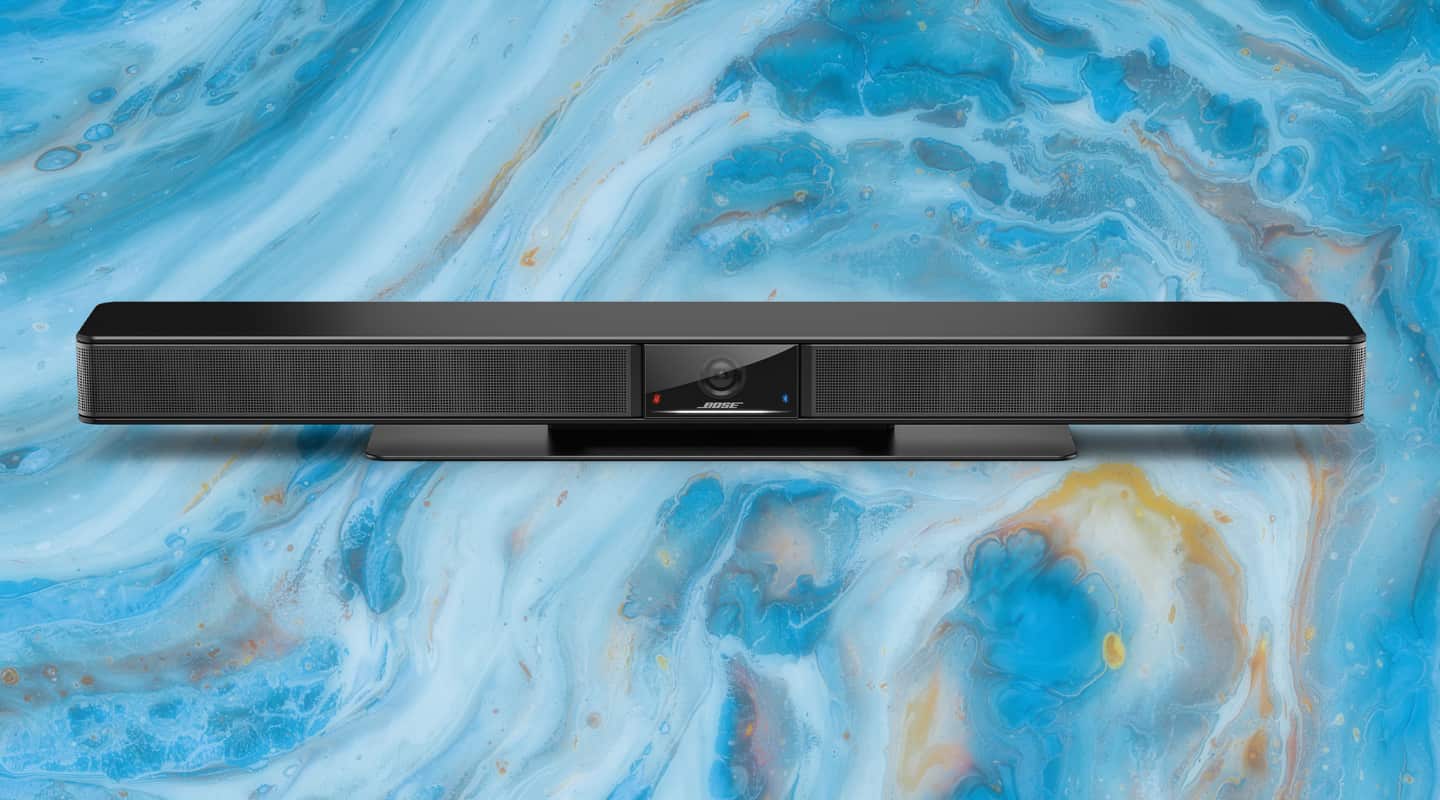 Review:/ Christopher Holder
There's a lot to like about the idea of a webcam/soundbar combo. Compared to installing mics, camera, speakers and a processor into a room, the combo design is about as easy to install as an item of AV gear can be. 
Bose calls the concept a video bar, hence the VB1 moniker. It's designed to be placed on a credenza or wall mounted under the display. For best results, its preferred method of connection is via USB-C. From the standpoint of the end user, it's as easy as popping the USB-C plug into a laptop via the supplied 5m cable — Bob's your uncle.
But if it was this easy to achieve amazing VC results in small- and mid-sized rooms, surely everyone would be doing a product like this? And there'd be no market for mics, cameras and in-ceiling systems from the likes of Biamp, Shure, Sennheiser and Stem Audio. Sure, AMX kicked things off with Acendo Vibe back in 2017 but there's not been much progress since. So I was intrigued to give VB1 a trial… after all this is potentially a VC system anyone could buy and install, even in your living room.
AUDIO CLARITY IS EVERYTHING
The ultimate meaure of success or failure of such a soundbar-style system is down to the performance of the microphones. If you're on VC calls all day, and intelligibility is absolutely paramount then a good headset mic is impossible to beat. Unfortunately, the optics aren't great — unless you're going for a gamer/fast food drive-through vibe — and as soon as you introduce another participant into your room, the headset loses its appeal. From there, as soon as you start to put distance between you and the mic, the smarter the system needs to be to maintain great intelligibility — the main tools in the draw are echo cancellation and beam forming microphones.
The Bose VB1 has both.
There are six array-able mic elements in the VB1 that can form four distinct, simultaneous pickup beams. If you have VB1 installed in a huddle space with four seats around a table, you can choose to set and lock those beam positions in the VB1 management software, moreover you can carve out no-go, exclusion zones for the mics. Otherwise, VB1 will go hunting for the loudest sources and the auto mic mixer and AEC go to work to maximise intelligibility. Bose quotes a 6m range for its microphones. In practice, it does a pretty remarkable job at 6m but obviously 2m or so is more its sweetspot.
Price:
A$1999 RRP
Contact:
Bose Professional: pro.bose.com
Pros:
Super easy to install
Excellent results in smaller spaces
Looks great
Cons:
Music playback not superb
Summary:
It's hard to believe this is Bose's first foray into all-in-one VC, as the VB1 is a remarkably well resolved appliance. Excellent results within the limits of smaller spaces, and couldn't be easier to use and install.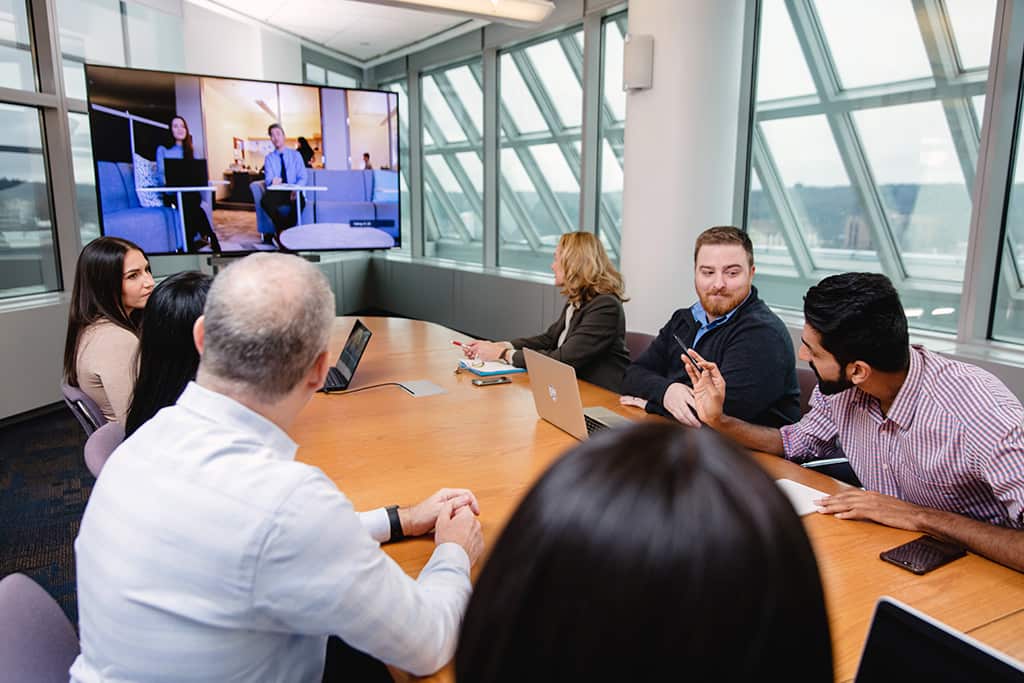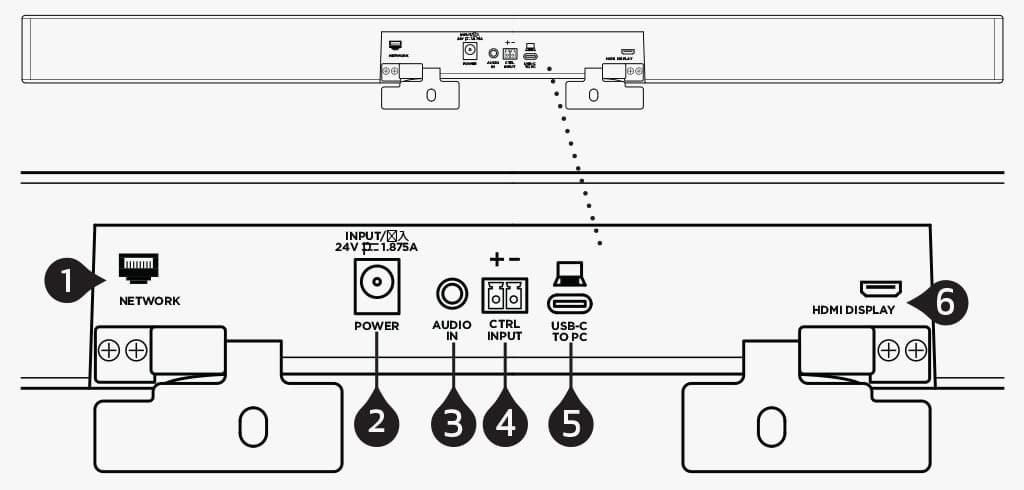 BACK PANEL
1. Network: 1Gbps RJ45 connection for configuration and/or monitoring.
2. Power
3. Audio In: Connect to an optional audio source, such as the audio output from a connected monitor or display.
4. Ctrl Input: For mute override using the included 2-pin Euroblock connector.
5. USB-C: Connect to the computer hosting the meeting.
6. HDMI Display: For connection to an external video display or monitor. 
THE OPTICS
The VB1 might appear to be a natural extension of the Bose Work line of business problem solvers, but to realise this product it meant having to establish an optics department from scratch. Yes, this is Bose's own camera technology. It's a 4K camera operating in an HD (at best) VC world. It uses H.264 compression, features 5-times zoom and that extra 4K resolution comes in handy when zooming and auto framing (which, incidentally is a little laggy in my tests). It's a 120° field of view camera. The results are excellent with minimal fish eye distortion. The light management and auto contrasting are also well handled.
The VB1 plays nicely with all of the usual VC suspects but Bose is putting more of its chips on Teams, and the integration is deep. Microsoft Teams has gone ballistic in Australia over the last year or so and the tight integration is a big selling point. For example, Teams will recognise the VB1 and disable its own AEC in favour of the VB1.
As for the loudspeakers' audio quality: Bose is well entrenched in the primo soundbar market with its home theatre products, so you'd expect this aspect to be well handled. It is. But don't expect the VB1 to double as an all singing/all dancing multichannel movie monster. It's designed to reproduce speech, in the main.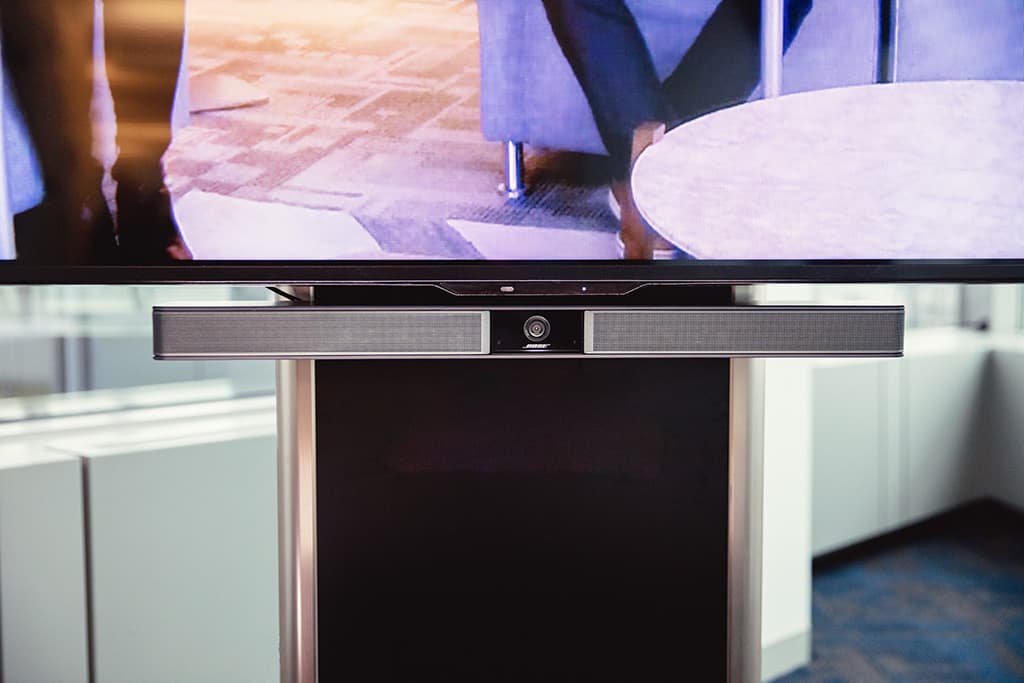 CONFIG APP
The VB1 ships with a remote control, which will handle 80%+ of what you'll want to adjust day to day, leaving the tweakier settings to the Bose Work Configuration app. There's a Mac and Windows version; a smartphone app; and a web GUI version as well. You can use the app to noodle with the beamforming mics exclusion zones, reset passwords, download call logs, check on network setting, join a wifi network and more.
The configuration app also allows you to toggle the Display Link function, which activates the VB1's HDMI port, so you can hang your room's display off the VB1 instead of your laptop.
The VB1's HDMI port really does make it so easy to install this appliance: pop it under your room's display; plug the VB1 into the display via HDMI; connect the VB1 to your network (if you have a bunch of rooms that need remote management/monitoring); and run the 5m USB3/USB-C connector to the table for connection to a laptop. If someone wants to use the space to take a phone call (I know, quaint idea), then they can do so by pairing with the VB1 via Bluetooth.
Finally, aesthetically, the VB1 doesn't disappoint. It's beautifully slim and well resolved. Doubtlessly, the Bose trolls will suggest that thanks to the supermodel good looks that the VB1 is another Bose triumph of marketing over substance. Let the trolls troll. The VB1 is a winner. Especially in smaller huddle spaces.
More for you