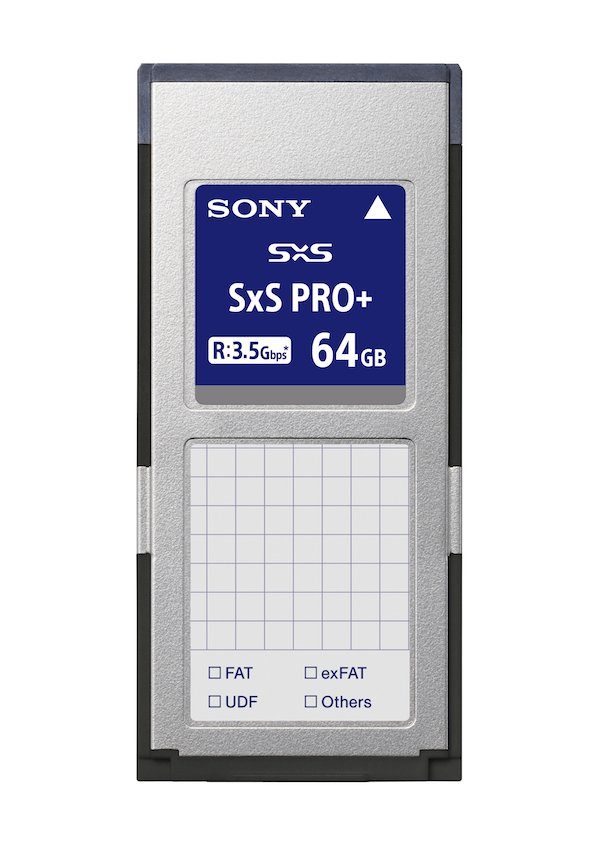 /
/
ULTRA-FAST MEMORY CARDS
ULTRA-FAST MEMORY CARDS
Sony has expanded its line of ultra-fast SxS professional memory cards for 4K video capture and high-bandwidth workflows. The new cards offer maximum read speeds of up to 3.5Gbps (440MB/s) and write speeds of up to 2.8Gbps (350MB/s), using the advanced PCIe Generation2 interface and a new intelligent controller to double high-speed data transfer rates and reduce ingest time by approximately 50 per cent compared to previous SxS models.
The SxS PRO+ and SxS-1's higher transfer speeds also offer high-speed ingest when used with Sony's new SxS Reader Writer (SBAC-US30 or UT100) and PSZSA25 solid state drive. This combination dramatically reduces transfer times even for large, data-intensive 4K video files. For example, 120GB of video files of XAVC 4K 60p can be transferred to a solid state drive for backup in about five minutes compared to 17 minutes with current SxS memory cards and professional hard drives.
Sony's SxS PRO+ series offers a minimum writing speed of 1.3Gbps for stable recording of 4K video in XAVC 4K 60P (600Mbps) and XAVC HD 180P (600Mbps) modes. This is enabled through an efficient data writing method made possible by the new controller, and intelligence functions that avoid speed degradation when used with compatible Sony cameras such as the F5 and F55.
The cards feature wear-levelling (data-defect minimising function) and data refreshing capabilities, and each is subjected to a series of quality assurance tests including checks on recording blocks, temperature cycles and operating environment. The SxS PRO+ series also supports the 'lifetime indication' function of the F55 and F5 cameras. Sony's new application software, Memory Media Utility, allows users to manage their SxS memory cards with features such as the library function, remaining media lifetime/capacity indicator, simultaneous data back-up to three locations, and quick/full formatting function for both FAT32 and UDF file systems.
The new PRO + series model numbers are SBP-64C and SBP-128C, and the new SxS-1 series models are SBS-32G1B, SBS-64G1B and the newest 128GB model, SBS-128G1B. They carry a warranty period of 10 years from the date of purchase.
SERIES            MODELS                                                                 AVAILABLE
PRO +              SBP-64C and SBP-128C                                       Nov 2014
SxS 1 G           SBS-32G1B, SBS-64G1B, SBS-128G1B              Jan 2015
Source: media release
Sony Australia: 1300 720 071 or visit pro.sony.com.au
More for you