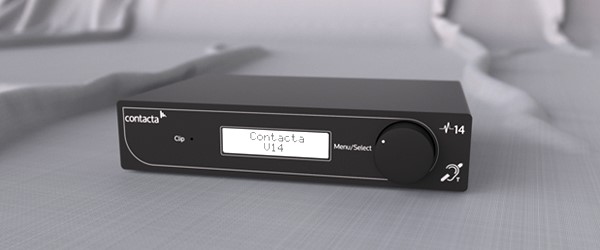 /
/
CONTACTA V14 HEARING LOOP
CONTACTA V14 HEARING LOOP
Hearing is a mainstream health issue that affects the lives of many Australians. Today, one in six Australians suffer from some degree of hearing loss with the Hearing Care Industry Association (HCIA) predicting that by 2050 this will increase to one in four.
The Contacta V14 hearing loop driver helps provide facilities and institutions with medium sized spaces such as meeting rooms, waiting rooms and lecture halls with good quality audio.
The latest addition to Contacta's V series, the V14, is a constant current, single output hearing loop driver. All V Series systems are made with the installer and user in mind to achieve life-like speech and superior music reproduction.
The V14 includes a backlit LCD display and user interface with a simple dial to make adjusting loop parameters effortless, while its compact half width 1U chassis enables swift and straightforward installation.
Designed to produce supreme sound quality in new and existing buildings, the V14 hearing loop driver includes a Class-D amplifier output stage, with automatic gain control and features high frequency compensation for metal loss.
Integrated protection circuits with temperature, voltage and short circuit DC detection and ultra-efficient power utilisation provide applications with a reliable and energy efficient hearing loop solution.
Unlike many conventional drivers, the V series does not require fan cooling, which results in a quieter, lighter and easier to maintain product.
The inclusion of Contacta's V14 hearing loop in contemporary spaces will ensure hearing impaired visitors and staff receive the best possible audio coverage, improving communication and the overall experience.
Contacta: www.contacta.co.uk
Australian Distributor: www.ambertech.com.au
More for you