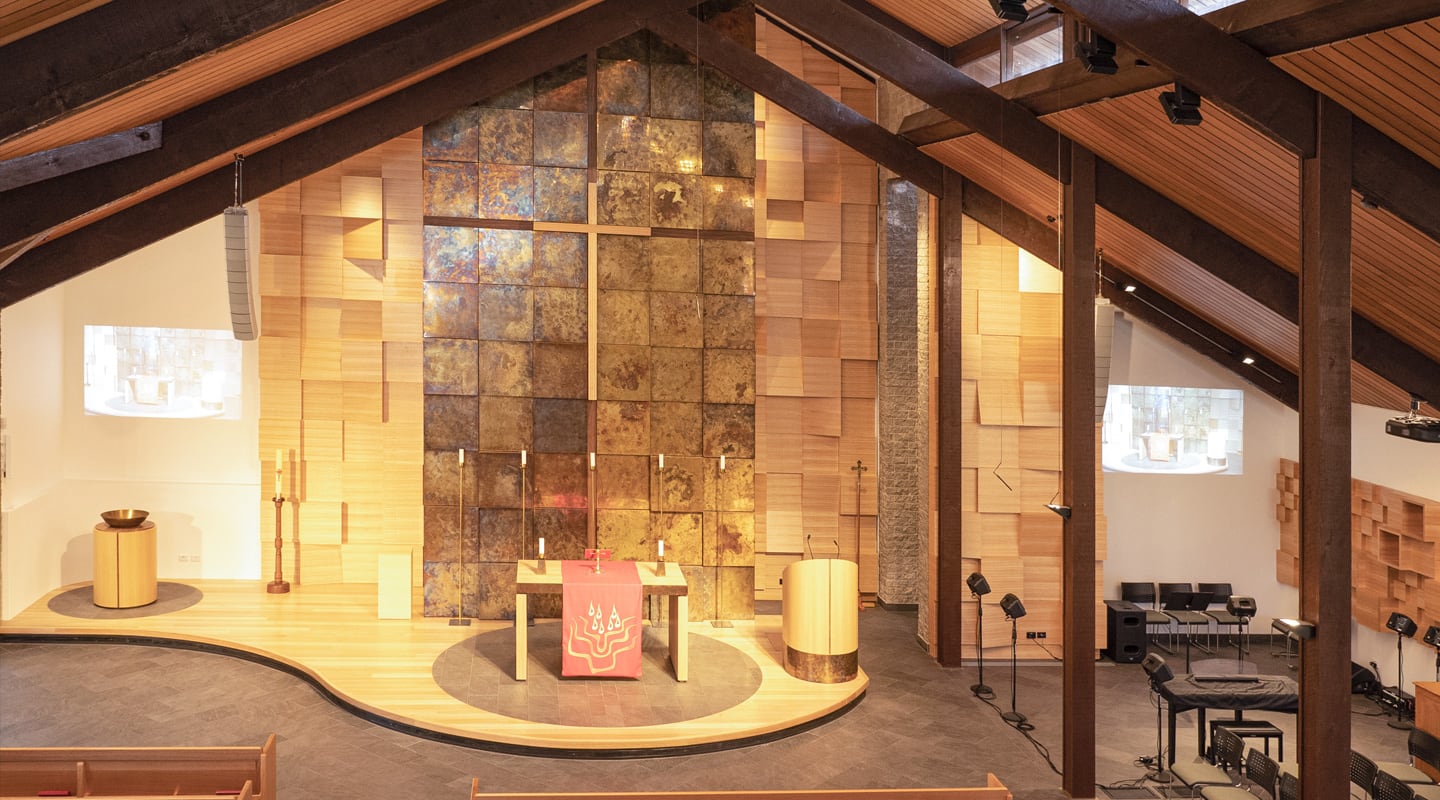 Changing Places
A suburban church community relocates, refits, and responds — rejoicing in an understated high-performance AV capability.
The St Paul's Lutheran church in Box Hill was getting crowded out. Downtown Box Hill may have been a strip-shop, suburban Australian idyll 50 years ago but today it's a bustling mini metropolis. Developers were circling and so were the parishioners looking for a parking spot on Sunday.
Down the road, St James Uniting Church was looking to sell. A deal was struck.
Sounds easy but closing a church community and moving a church is anything but.
St Paul's is a church community with a high IQ and an appreciation for good design. It was attracted, in part, to St James' striking mid-century early-modern architecture, by noted architects Chancellor and Patrick. Completed in 1965, the building had a local heritage listing placed on it in 1994. 
Which goes some way to setting the scene for a remarkable full-blown church renovation and high quality audiovisual fitout.
SPEAK FLUENT CHURCH
Designing an AV system for a church requires understanding how the community does church. 
You might be forgiven for thinking that church AV can be divvied up into two camps: old church (column speakers in cavernous neo-gothic spaces, a gooseneck mic or lavalier on a podium, low-tech volunteers) and contemporary church (Hillsong-esque, rock 'n' roll PA, concert lighting, broadcast studio, paid staff and/or experienced AV volunteers).
The truth is, there are many, many more sub categories besides.
St Paul's Lutheran found an integrator in Mozaix that speaks fluent 'house of worship'. Director Paul Tucker quickly struck up a rapport with the church's building committee: "Our reputation is founded on house of worship projects. We know what questions to ask, which instantly put the church leadership at ease."
ACOUSTICS: BREATHING LIFE
Interestingly, the original St James space was acoustically too lifeless. It's an unusual problem to have in a church building, but what with the carpeted floors and construction of the vaulted ceiling, the unrenovated space wasn't suitable for St Paul's style of 'call and response' congregational worship.
Acoustic engineer, Andrew Nicol, was engaged. Headlining the acoustic treatment is an array of signature reflective diffusers for the front wall and behind the band stage; hard stone tile flooring; Atkar acoustic panels on the rear wall; and acoustic absorption on the balcony fascia. The result is an acoustically lively but controlled space that rewards congregational involvement and happily accommodates high SPL sound reinforcement.
Andrew Nicol briefed audiovisual consultants, Hanson Associates. Mark Thompson from Hanson Associates picks up the story:
"Given the acoustic design required that the church maintain a live reverberant environment to support acoustic performances and to support the organ and congregation participation, a properly engineered speech reinforcement system was required.  Our engineering and acoustic modelling process resulted in our nomination of the Martin O-Line system for its ability to accurately control audio coverage."
TREAD LIGHTLY
Given the significance of the architecture, Paul Tucker knew he would need to tread lightly with his AV design. Paul and Hanson Associates have worked on previous jobs involving the svelte Martin Audio O-Line array, and was confident it would deliver the goods for the St Paul's fitout.
"Every element of the Martin O-Line PA is individually addressed by its own amplifier channel and processing," explains Paul Tucker. "Which allows us to beam steer the array, keeping energy out of the ceiling space and the pipe organ loft."
Yamaha Commercial amplifiers take care of the power, while a Q-SYS Core provides the DSP processing (along with other duties). A discreet low-profile QSC 12-inch sub aside rounds out the bottom end without shaking any false teeth loose.
"It's a very transparent PA — it's not lumpy in the bottom end," reflects Paul Tucker. "It really connects to the room nicely. Hanson Associates took care of the final tuning of the PA and it's come up nicely.
"We had a consecration service featuring a fantastic viola player, and the sound of that instrument through a DPA microphone was beautiful — really stunning."
PERSONNEL
Acoustic Engineer: Andrew Nicol
Audiovisual Consultants: Hanson Associates
AV Integrator: Mozaix
Architect: Law Architects
Builder: Harris HMC
Bronze Feature: Bronzeworks
Furniture: Osiris
DANTE IN FURLOUGH?
Much of the AV action resides in the tech booth. An Allen & Heath SQ7 mixing console marshals the audio ins and outs. Paul Tucker likes the usability of the SQ mixing platform and it slots into his prevailing Dante view of the universe: "During the design phase we were aware that Allen & Heath were soon to release Dante stageboxes, which would allow us to create a modular I/O backbone.
"The other big part of the equation was Q-SYS. Again, at the time, we were aware that QSC had announced plans for its Q-SYS Core to host a software version of Dante, which was really going to revolutionise the Q-SYS proposition in an install like St Paul's.
"Q-SYS seems to be constantly revolutionising what the market is doing, but Dante integration is another step forward. So we designed the St Paul's system off the Q-SYS data sheet and waited for the release of v8.3.1. We were really sweating on that release but it came through in the nick of time. There's some bedding down to do, but we believe it is the right move."
STREAMING
The AV booth is also the control hub of all the video and streaming capabilities. The Covid crisis may have sent so many churches into a live stream spin but St Paul's has been recording and broadcasting for some time, and video recording and streaming was always in the AV plans well before the pandemic.
A Blackmagic ATEM TV Studio HD unit provides the video switching — "the best featured, small-format video switcher on the market," according to Paul Tucker — taking video from three PTZ Optics cameras via SDI (two fixed to the back wall and a third camera offering reverse angles of the congregation or musicians).
A Blackmagic interface in the booth controls the TV Studio in the rack.
Audio for the video recording and streaming is provided by an auxiliary tap from the SQ7 desk: "We've based the mix on the main front of house mix, so the operator isn't starting each mix from scratch. But they can of course, augment the mix with spot mics or additional reverb on pre-fade sends."
There are congregation and pipe organ mics that are only routed to the video stream and not to the house PA (low-profile Audio-Technica U853R cardioid condenser hanging mics).
EQUIPMENT HIGHLIGHTS
PA: Martin Audio O-Line
DSP & Control: Q-SYS
Mixing: Allen & Heath SQ7, Dante stageboxes
Projection: 2 x Epson EB-G7905UNL
PTZ Cameras & Controller: PTZ Optics
Video Switching: Blackmagic ATEM TV Studio HD
Streaming: Matrox
Choir Mics: Audio-Technica U853R
Wireless Microphones: Sennheiser Evolution G4
Fill Speakers: Acoustic Technologies
WE CAN DO THIS ONE OF TWO WAYS…
Q-SYS not only provides the processing grunt for the church, including the 24 x O-Line loudspeaker elements, it handles the control aspects.
A Simple mode allows a church volunteer to spark up the PA and the projectors with a couple of prods of the iPad. 
"The church absolutely loves the Simple mode for their more straightforward events," says Paul Tucker. "It means any of the staff can be trained to operate the system. It doesn't require any knowledge of the mixing console, which can be daunting.
"We are doing so many of these hybrid systems now, which are capable of a full Production mode and a Simple mode. And, really, that's probably the biggest reason for putting Q-SYS at the heart of an install like this. It's Q-SYS' ability to bring everything into the one environment."
SLIMLINE & UNDERSTATED
The slimline O-Line arrays set the tone for the install. It's a stealthy, under-the-radar install where there's no shortage of technology but it remains understated.
For example, two Epson EB-G7905UNL projectors flank the altar. These installation projectors were chosen in preference to LCD monitors, as they're less prominent. What's more, the decision was made to project directly onto the wall rather than employing screens… even retractable screens. Again, it helps to maintain a sense of transparency to the technology.
Similarly, there was considerable discussion regarding the lighting. Architectural lighting was of course designed into the refit, but Paul Tucker was quite insistent on the need for 'stage lighting' to ensure the quality of any video work and service streaming. A compromise was struck and the LED luminaires meet the architectural and production mandate. But not without considerable debate.
David Pietsch, who heads the church's Strategic Property Group, reflects on the compromises. "We didn't want the sanctuary to look like 'church by technology'. I think we've achieved that. We're very pleased with the results."
More for you