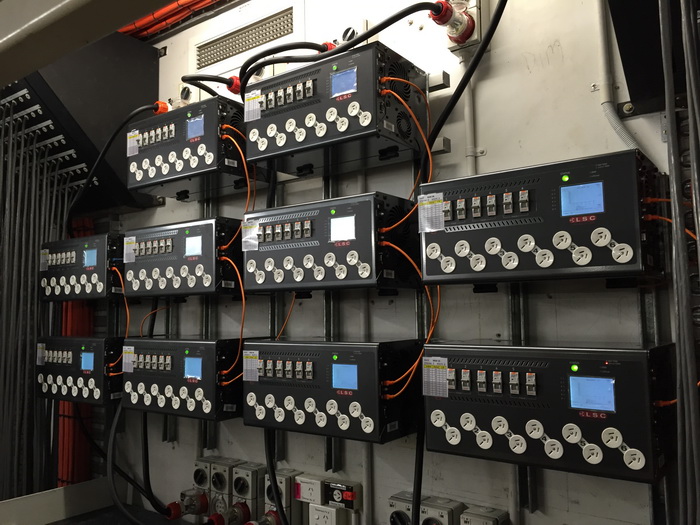 QPAC: 966-CHANNEL LSC DIMMER UPGRADE
The Queensland Performing Arts Centre (QPAC) upgraded the dimmers of its Playhouse Theatre. Phil Viney from Design Stage was engaged to prepare a specification that would directly replace new for old dimmers in the 850-seat venue. Due to space limitations and the existing dimmers' footprint, ideally any replacement dimmer also needed to be a small footprint unit that could easily be distributed around various locations in the venue. The only alternative available at the time was to use rack-mounted dimmers however such a solution would occupy valuable floor space, be more expensive and more difficult to use with the large installed patch system. LSC responded to this challenge by repackaging its existing popular TEKO TruPower dimmer technology into a clamshell style metalwork design that could be wall-mounted in only a 250x500mm space.
The newly packaged dimmer — named the iTEKO — addressed all of the venue's requirements including minimal disruption during installation, remote reporting of dimmer status including tripped breakers, RCD protection on every channel, TruPower technology to allow any channel to be selected to be either dimming or direct power, RDM and extended mains filtering.
As QPAC held concerns about any manufacturer's dimmers' ability to cope with mains power disturbances, the successful tenderer was required to install a quantity of their proposed dimmers in the venue for a trial period. To meet this requirement, and since the new iTEKO required completely new metalwork, LSC had to design, produce and supply a short run of dimmers in just over six weeks from winning the tender. The dimmers were supplied and installed on time and the trial was completed successfully.
QPAC's decision to go with the iTEKO was also influenced by price, availability, exceptional features, and LSC's proven track record of installations in other major Performing Arts Centres in Australia and overseas as well as EKO installations in almost every TV station in Australia.
Installation of the 93 dimmer units, providing 966 channels of control, was spread over a number of months to ensure that the process didn't interfere with the venue's very busy performance schedule, with all works being completed in March 2015.
More Info
LSC Lighting Systems: (03) 9702 8000 or www.lsclighting.com.au
More for you