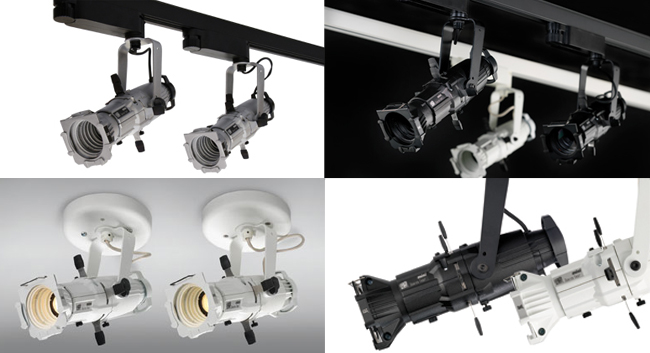 SMALLER SOURCE FOUR — AV.technology
The Source Four Mini LED, like its larger sibling it has interchangeable lens tubes providing optics in the field angles of 19°, 26°, 36° and 50°. It features shutters, a gobo slot for an E-size pattern holder and a frame slot for a colour gel. It also has a rotatable barrel for challenging angles. The Source Four Mini LED comes in a track mount, a canopy mount and a portable version all with the transformer attached or hidden and is available in white, silver or black. The fixtures weigh only 1.2kg, so rated or genuine rigging points aren't necessary. At 23cm long they can fit into the smallest of corners and with a diameter of 6.35cm fit through a very small hole. The Source Four Mini LED with its 12W LED is also brighter than a traditional tungsten fixture, which means there is no output disadvantage for better efficiency. The Source Four Mini LED is suited to restaurants, shops, museums, cafes, foyers, theatres and other small-scale applications.
Australian Distributor: Jands (02) 9582 0909 or info@jands.com.au.
More for you