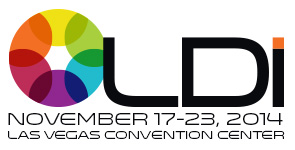 /
/
BEST OF THE NEW AT LDI 2014
BEST OF THE NEW AT LDI 2014
Debuting Product of the Year Awards
The LDI 2014 Awards Best Debuting Products Of The Year were presented in an awards ceremony on Saturday, November 22 on the LDI show floor at the Las Vegas Convention Center. And the winners are:
SOUND
Winner: ClearCom's FreeSpeak II – the next step in wireless full-duplex communication with improvements in reliability, expandability, and wireless range.
WIDGET
Winner: Grid Show Systems Tour Node 8 and its fault-finding feature, which identifies a break in signal with a graphic representation of the channel and location of the fault within a few feet.
Honorable mention: RC4's Magic Series 3 DMX4Dim universal tool kit for wireless DMX integration.
SPECIAL EFFECTS
Winner: DSSP's eSquib effects system, which allows multiple firings from an individual squib up to 200 cycles using pyro-electric Electric Solid Propellants.
Honorable mention: Rosco's Vapor line of fog machines.
Honorable mention: Antari's F-7 Smaze switchable fog and faze machine.
STAGING & RIGGING
Winner: ModTruss, a radical shift in staging, with a new vision for how trussing connects and works as an integrated system.
Honorable mention: Doughty Engineering Modular Rigging System, a clean solution for tail downs, lighting ladders, and drop arms.
PROJECTION
Winner: d3 Technologies' 4x4pro, a revolutionary step in hardware performance and software architecture with real-time tracking via a BlackTrax driver, and procedural-based Dynamic Soft Edge.
Honorable mention: Green Hippo's SHAPE, a free projection mapping software tool.
LIGHTING CONTROL
Winner: Interactive Technologies' CueServer 2 fully functional and integrated lighting and show controller.
LIGHTING FIXTURE
Winner: ETC's Source 4 Lustr series 2 LED source with major improvements to the emitter and brightness.
Honourable mention: The Elation Sniper for reintroducing the scanner to the industry.
Honourable mention: Clay Paky Mythos for its optics, quality and features.
LINKS
LDI 2014: www.ldishow.com
More for you