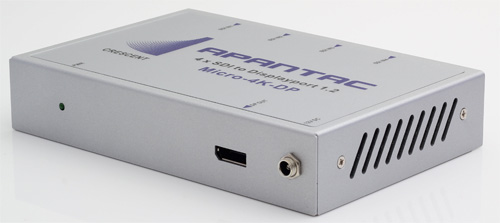 /
/
4K TO DISPLAY PORT 1.2 CONVERTER
4K TO DISPLAY PORT 1.2 CONVERTER
Apantac's Micro-4K-DP launched at ISE 2015 provides a 4K converter for viewing 4K/UHD resolution on monitors and projectors that use Display Port 1.2, an alternative display interface to HDMI.
The new converter accepts four 3G-SDI signals from professional 4K/QFHD at 50/59.94/60Hz equipment, and can also be used as a simple fixed Quad-Split.
Apantac says Display Port 1.2 is the only monitor interface supporting 4096/3840 x 2160 resolution at 50/59.94/60Hz frame rates and 4:4:4/4:2:2, in 8 and 10 bits sampling until "real" HDMI 2.0 interface components (rather than HDMI 2.0a) become available. Several cost effective UHD monitors with DP 1.2 interface are now available on the market.
With plug and play operation and auto detect inputs, the Micro-4K-DP converter suits professional audiovisual applications including live events, rental and staging, video wall applications, multiviewer applications, 4K production, and other monitoring and conversion applications. It is part of the Oregon-based company's Crescent line of signal processors.
Source: Apantac media release
LINKS
Apantac: www.apantac.com
Australian distribution
Techtel: (02) 9906 1488 or www.techtel.com.au
More for you