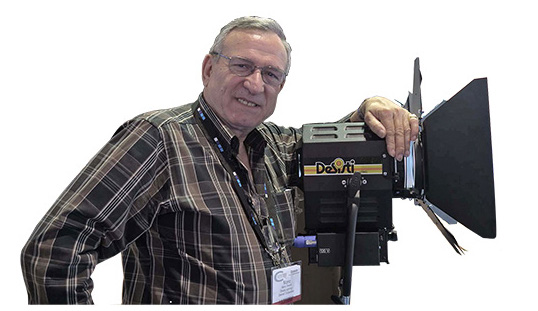 IN MEMORIUM
MARIO DE SISTI 1941 – 2014
De Sisti founder and lighting designer Mario De Sisti passed away on October 31. His sons Fabio and Sergio have released a statement on the company's website, honouring their father and and saying they plan to continue his legacy:
The De Sisti organisation with deep regret, would like to inform our friends and dear customers that Mario De Sisti, our founder, has passed away on Friday, October 31st 2014. The lighting industry has lost a true pioneer, inventor, and true ambassador. There was no one more charismatic or passionate about his family, business or the industry.
Mario was highly dedicated and inhaled lighting with every breath. His enthusiasm and vigour was contagious. Mario travelled the world and considered most of his friends as if they were family. There was no one with a bigger heart and higher level of excitement and dedication to the lighting industry.
The entire De Sisti organisation expresses its immense gratitude and admiration to Mario, for his genius contribution and unrestful dedication to achieve the prestigious results upon always innovative products and solutions, for the worldwide professional lighting industry.
We will all miss you Mario… There are not known words to us, good enough to express how much we will miss you. On behalf of Mario and the De Sisti organisation we want to humbly express our gratitude for your past support of our company and our future endeavors together.
– Fabio and Sergio De Sisti
De Sisti suffered a stroke three years ago and had since been in ailing health. Funeral services were held in Rome on November 3.
De Sisti: www.desisti.it
More for you