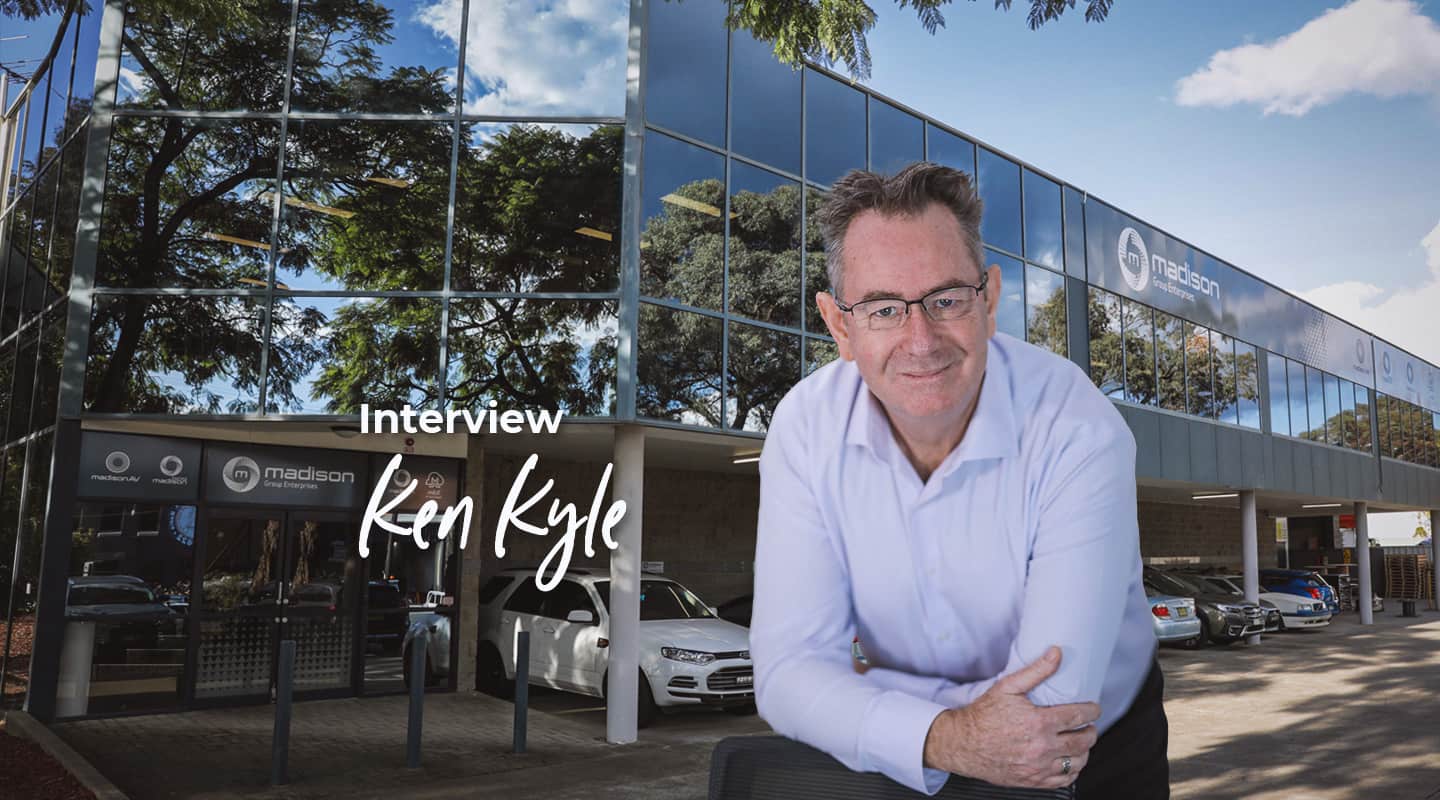 Interview: Christopher Holder
Madison has been a big name for many years but mainly in the broadcast and infrastructure worlds. Sure, it had some AV-adjacent brands but it was still a big surprise when, in 2019, Harman appointed Madison as the distributor of its AV and installed audio product. MadisonAV was born, a new division of the company, with ready-made portfolio led by JBL and AMX to take to market.
In more recent times, MadisonAV has taken on additional AV brands to complement the Harman offering. Even more recently, Harman asked it to rep its high-end JBL concert touring product. 
We caught up with CEO Ken Kyle to explain.
AV: You've taken on Yealink, Humly and Nureva. Kind of a purple patch really?
Ken Kyle: It might look that way but we don't see it as too rapid. It's been around three and a half years since we took on Harman. Then covid struck, and it was obviously difficult to get any traction and experience the growth we expected in that period. Coming out of covid we grew quickly once the markets bounced back. But that's in the context of a market that's yet to fully normalise, what with the component and supply chain interruptions. It's been a confusing and uncertain time and I think we're still seeing some pent-up demand from that period pushing through. Even still, those interruptions are not over.
Some markets have clearly bounced back more strongly that others. Hybrid working, transportation, entertainment… that growth has encouraged us to expand our portfolio.
We're a lot more objective about our brands these day. In the earlier days, we might grab what's available, but you can't do that once you have scale — the new brands need to be complementary.
AV: Tell us some more about the new additions.
KK: Nureva, Yealink and Humly are in that smart workspace technology vertical. Employers are making their offices more attractive by way of an inducement to get staff back to the office, and this technology helps drive that.
Humly has a range of room and desk booking product for a smarter workplace.
Nureva, we've had our eye on for a while. In fact, we sold against it for a few years with Stem Audio and Phoenix, brands we lost due to an acquisition. So we admired the Nureva's Microphone Mist technology and we're delighted to be now representing it.
Yealink has some great UC solutions. One of its biggest credentials is MS Teams certification, which gives it real credibility in a massive market. Consultants don't want to recommend or spec product, regardless of how good it is, without Teams certification and Yealink secured it early on in the piece. It's my understanding that Microsoft has pulled up the drawbridge of Teams certification, at least for the moment, so it's a very handy calling card.
We're not the master distributor of Yealink, which suits us. We can help them make inroads in the AV space but it's not our job to make them famous or compete in the IT space.
We've got such a large customer base thanks to our infrastructure product, and on account of being around a while. It doesn't cost us so much to take on a new product line if we're not having to take care of all the support.
AV: You've got an event coming up that could be described as a relaunch of the JBL VTX A-Series. What's that about?
KK: It's our introduction to the touring market. We've had an interest in JBL's line array range as an adjunct to the existing installed audio portfolio. We've got Jeff Shoesmith doing lots of Tier One install work, school halls and the like, that require line array. We made enquiries about access to VTX A-Series, and not just A-Series but JBL's VRX as well.
In response, Harman offered us the JBL Tour portfolio, which formerly was with our friends at CMI.
To help us, we've added Peter Kubow to our team, who has lots of experience in the touring and high-end install market. The event you're referring to will allow us to meet the players in the concert touring and performing arts centre market and introduce them to a great product, including the brand-new A6 which rounds out a VTX range that includes the A12 and A8.
AV: What's your chances of making a dint in the rental market?
KK: We're under no illusions about the task at hand. It's a market dominated by the big European players. That said, VTX is kicking goals in Asia, US and Europe. It's been well received by the market in lots of events and festivals. So I think we've got what it takes to change some minds about JBL loudspeakers in this part of the world.
We've already had a couple of early successes, and we're ready to respond to what's shaping up to be the biggest festival season Australia's seen, coming up next Summer. We'll have loudspeaker stock and amplifier stock.
AV: You mentioned Peter Kubow joining your ranks. Any other hires worth mentioning?
KK: Nick Cocks joins our sales team in Adelaide. People will primarily know Nick from his Hills days. He's a seasoned operator and knows everyone. Given his experience, we've also given him West Australia and if that all clicks we'll look to build a team around Nick.
We brought Rob Mayer into our product management team about a year ago. Rob has quickly become a very valuable member of the team and has really assisted me with bedding down the relationships with Humly, Yealink and Nureva, as well as Philips and a couple of others.
Other than that, the team has been pretty stable.
AV: How's the AV arm of Madison performing?
KK: We've been doing AV for 20-odd years now. Rebranding as MadisonAV obviously made our intentions much clearer, while winning the Harman distribution pushed us into another orbit again.
Wrapping up Q4 and another financial year, it's been a successful one for us. We're now working on maintaining that growth.
It's exciting to be representing Harman. It continued to invest in R&D over the covid period — starting with its lighting product, then portable sound, into installed audio and AMX. JBL and AMX is now a big chunk of our business and that will only grow. There will be new product coming out this year that's also very exciting.
Adding brands is one thing but making the most of those brands is also a big part of our strategy. We can do more with what we've got and the territories we're in.
More for you