/
/
/
The Hall That Does It All
The Hall That Does It All — AV.technology
Fancy five 20-tonne slabs of concrete and brick moving over your head? That's how Fernando Menis controls the acoustics of CKK Jordanki Concert Hall.
Architects must hate it when client's change their mind. Say the brief was to  build a retirement home for a sexagenarian couple — a well-considered, modernist abode with all the mod cons a long service leave payout can buy. The architect goes ahead and designs a smaller, easily maintainable home with only a couple of rooms and plenty of wall space for their pre-war art collection. No one mentioned room for the extended family rocking up on the weekend, or the raucous grandkid sleepovers on Friday nights, until the design was already done.
Fernando Menis, principal of Spanish-based firm Fernando Menis Architects, seems to handle those kind of last minute requests well. Menis won a 2008 international ideas competition for the new CKK Jordanki concert hall in Torun, Poland under the direction it would only be used for symphonic concerts. When the post-competition design process started — the time when sketches are turned into accurate drawings — the city decided it actually wanted more than a home for the Torun Symphony Orchestra. It wanted to be able to house all manner of theatre, opera, musicals, concerts, even conventions and television shows.
Knowing that a static hall could not cope with such a varied program, Menis went back to the drawing board. He is a student of acoustics, specifically as it relates to the behaviour of concrete. It's been a heavily researched topic around his office over the last 12 years. They call it 'liquid stone', because it allows them to define specific geometry via formwork that controls early reflections.
Another material Menis has become intimately familiar with is 'picado', a mixture of concrete and chopped up brick which forms an irregular surface for high frequency diffusion (2kHz and above) that Menis says is "very difficult to achieve with other materials." It softens the hard specular reflection of hard flat surfaces, smoothing out the sound of orchestral early reflections. He attributes the idea to a 'rationalised' [archi-speak] version of what Baroque architects would do with décor and ornamentation. The use of picado was a win-win for the design. The heavy concrete and brick surfaces minimise low frequency absorption to deliver fullness in the low end, but it also fits in well with Torun's World Heritage Site-listed red brick Gothic buildings. MLS (Maximum Length Sequence) diffusors have also been integrated in the movable walls to avoid acoustic glare.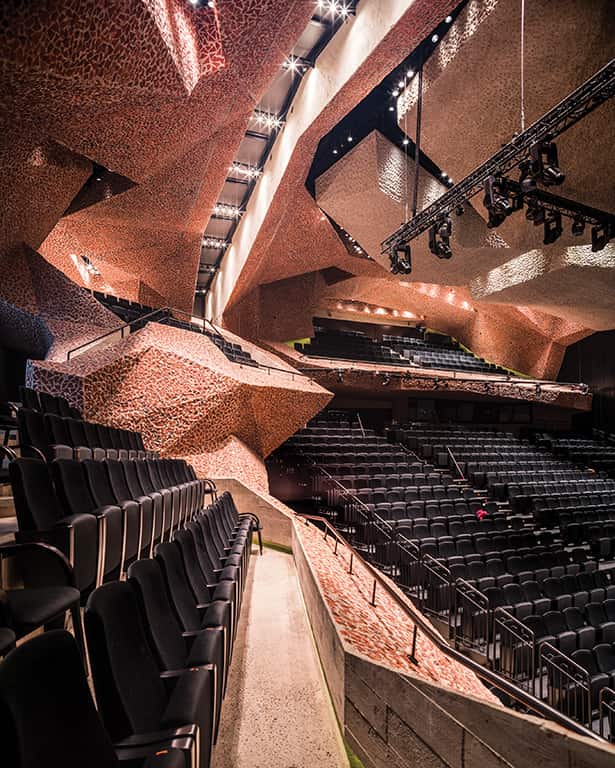 That would have all been, relatively speaking, putting lipstick on a pig if Menis's design was still a standard hall. However, the CKK Jordanki is anything but standard.
The subterranean appearance of the hall is reinforced by its asymmetrical geometry, which "contributes to a completely diffuse reverberant field and a good sense of envelopment, making the audience feel surrounded by sound," said acoustic design engineer Pedro Cerdá of i2A acoustic & Audiovisual Engineering. "Each surface was carefully sized and oriented in order to enhance lateral reflections and provide a strong spatial feeling to the audience."
To do that, they literally built 1/50th-scale clay models, layered the inner surfaces with aluminium foil and shot laser beams into them. They repeated the process eight times, analysing the reflections, then refined the final shape with computer 3D modelling.
The main acoustic feat, and what sets CKK Jordanki apart from a typical concert hall is its operable ceiling. We've seen some pretty jaw-dropping concert hall acoustic feats over the years. In our own backyard, Hamer Hall's recent addition of operable 'batwings' above the stage helps acoustically reinforce different-sized ensembles. Menis has taken that approach with the entire hall.
The ceiling is comprised of five gargantuan movable panels that look like meteorite chunks floating in space. Each panel has a surface area ranging from 80 to 140m2 with five anchoring points to hoist it a distance of between 3-5m. With steel skeletons and concrete coating to ensure enough density for the desired acoustic performance, they weigh between 11 and 20 tonnes.
By moving the panels individually, the volume of the space can be transformed from a large 8200m3, with a reverberation time of 1.85s (T30, 1.78s when occupied), to a reduced volume of 6800m3 when the ceiling is at its minimum height, knocking down the reverberation time to 1.35s.
The panels aren't interlocked, so the space above and below them is coupled to a degree, adding another opportunity to control the acoustics with retractable acoustic banners in the upper volume. When they're fully retracted it becomes a lively reverb chamber that adds a fuller reverberant tail. With banners deployed, it further dampens the reverberation time down to 1.2s at the ceiling's lowest position. "It covers the entire range of possible activities," said Menis. "1.85 seconds for symphonic music, 1.6 seconds for opera and 1.2 seconds for theatre."
Even with all that malleability, Menis hasn't sacrificed quality when the hall is used for that early intended purpose — symphonic music. "The intense and innovative acoustic work achieved by Fernando Menis in this concert hall makes it a real 'world leader' among buildings of this type," said Victor Pablo Pérez, conductor of the Symphonic Orchestra of Madrid. "Throughout my experience of all these years, I have never met an architect getting so involved and studying this field so hard in order to achieve good acoustics."
More for you