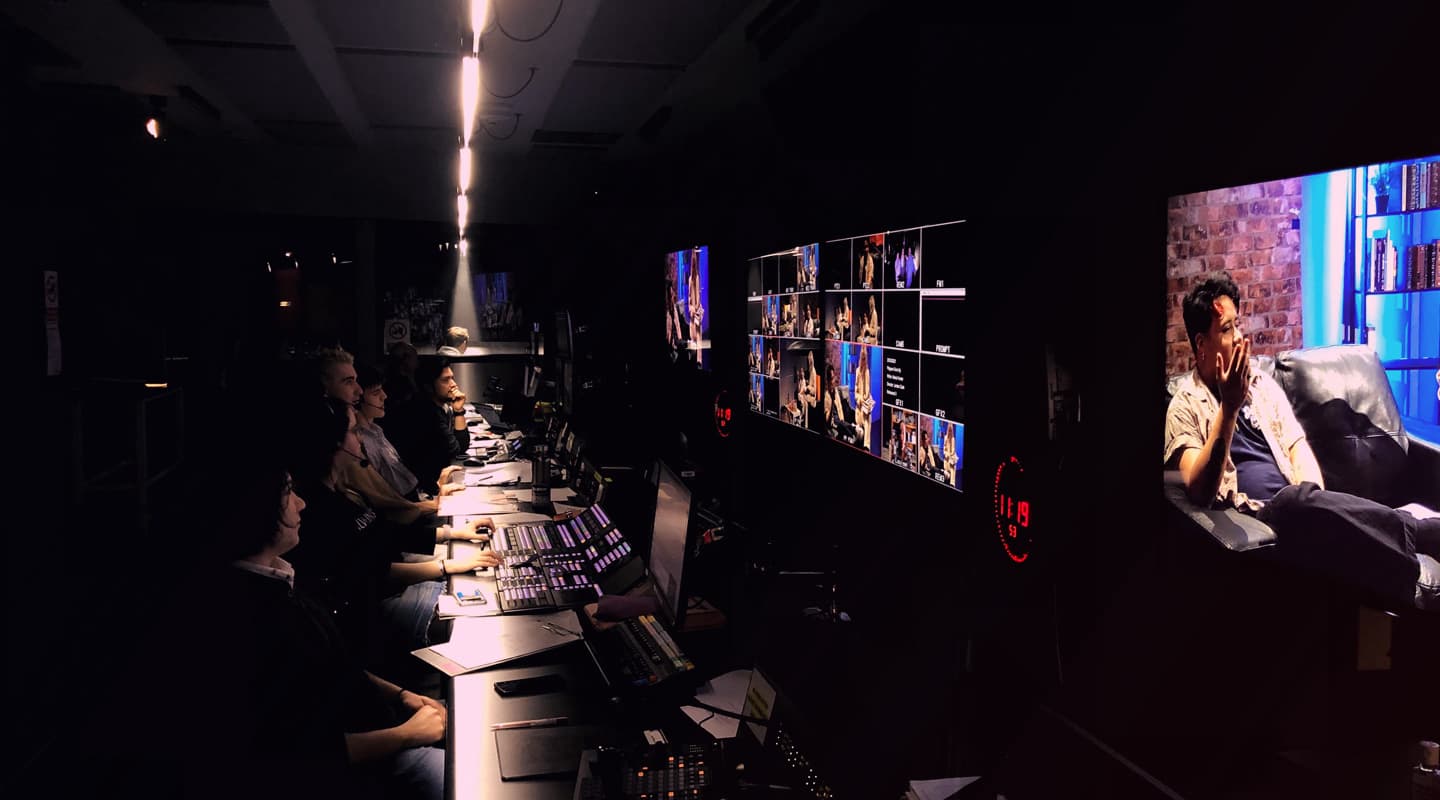 Melbourne's RMIT has a reputation for providing education that connects with the real world. It's a university that values its industry links and celebrates its students who make a ready transition from 'learning' to 'doing'.
This story starts some 10 years ago. And describes how RMIT went the extra mile to design and build TV production facilities that give its students a practical education that mirrors their experience as a producer or technician in the real world.
It all started when Mike Lewis — a senior figure at Channel 10 at the time — suggested that RMIT develop a Television Production stream for its Screen & Media course.
Around the same time RMIT was looking to redevelop a series of siloed buildings on its downtown Swanston Street frontage. The vision of a more open, urban space coincided with a proposed Media Precinct.
The Media Precinct now occupies the basement level of the redevelopment, replete with four production studios.
Studio A is the jewel in the crown — it comprises a full-blown control room along with a TV studio decked with Panasonic cameras and a well-equipped lighting grid. Studio B is a state-of-the-art virtual (green screen) studio and control room with audio mixing booth. Studio C is another control room space. Studio D provides a space for RMIT's journalism students to present daily news bulletins in a TV news studio. 
FOLLOWING PROTOCOLS
The journey in designing and building a state-of-the-art media complex was made more complicated by the emergence of IP audio, led by Dante. Around the same time that RMIT's Screen & Media team, led by Program Coordinator Rowan Humphrey, decided on which way to jump, the ABC was building its Southbank (Melbourne) studios with copper coax/SDI at its core.
Rowan knew RMIT could take a step closer to the future than that, but an all-IP design wasn't yet practicable.
It was a case of carefully marrying the Dante-based systems — including the Yamaha mixing systems, the EVS broadcast digital video production system, and the Lawo VSM (Virtual Studio Manager) IP control system — with the Riedel Artist comms system, which at that time utilised MADI for its signal transport.
SSL MADI-to-Dante converters interface between the Riedel MediorNet system and the other systems.
It's a credit to Riedel and the integrator, Videocraft, that the design could be glued together in a way that's seamless to the operator.
NON NEGOTIABLES
Rowan Humphrey explains the rationale of the design and how he was chasing and being chased by the technology zeitgeist:
"It was bit of a mind bender for all of us. I had experience with Riedel comms and its versatility. We were confident with that decision. We were also committed, in theory, to get EVS on board. We weren't so much concerned about which camera chain or vision mixing chain we employed. As it turned out we have a Panasonic camera chain and our vision mixing is from Sony. In this respect, the agnostic aspect of Riedel had even more appeal."
TRANSPORT HUB
The reason why Riedel was a 'lock' in the design wasn't simply for its industry-standard comms systems but for its MediorNet-based decentralised approach to media transport. Using fibre, a Riedel Micron interface unit can be dropped where necessary, plumbing into the MetroN core routers in the Media Precinct, allowing a torrent of media to be bi-directionally introduced into the network — video, audio, comms, control…
Exemplifying the power of the Riedel fibre-connected star network is what the school calls the OB Droid. 
"The university operates the Capitol Theatre down the road. The OB Droid allows us to control a theatre production from the Media Precinct or, indeed, for the theatre to be entirely self-sufficient with its comms and more, by accessing the Media Precinct hardware. We can remotely access up to five cameras; we can drop a Yamaha RiO stage box for audio interconnectivity… we can bring all that into our control room, switch cameras, mix audio on the Yamaha console, use the talkback panels to talk to the operators on their Bolero packs… All via dark fibre to the theatre."
There are fibre tielines elsewhere on campus, which makes it straightforward for students to call on the OB Droid for duty in other on-campus theatres or outdoor precincts. "That's where MediorNet itself is so powerful. It's incredible," reflect Rowan.
Effectively the Riedel solution has a threefold purpose at RMIT. At its most fundamental it provides a fibreoptic networking solution — a long-term, future proof cabling infrastructure — that could just as easily transport SDI, IP, or any other proprietary protocol you might want to throw at it. The second advantage of the Riedel MediorNet-based equipment is its ability to provide an all-in-one comms/vision/data/control media solution. Thirdly: the Riedel routers use a traditional SDI interface — which has flattened RMIT's learning curve  as compared to taking the leap with completely all-IP infrastructure. 
""
That ability to have all of those different sources and destinations available at your fingertips and to independently control the level of each… that's powerful.
THE COMMS CONFIG
Comms is a crucial part of any TV production and Riedel Artist provides power, clarity and flexibility in spades.
The routing is based on a 128-port Artist node. It's augmented by a 64-port node for camera communications that handles all four-wire production and engineering circuits into the CCUs [camera control units].
As mentioned, the Media Precinct has four separate production studios, which means the comms system needs to not only handle a multitude of I/O but allow the school to group nodes and create 'conferences' within the system.
For example, Studio A has its camera comms setup and its allocation of beltpacks. It also has the Riedel RSP-2318 talkback panels in the production studio. The audio from the talent mics is firstly routed to the Yamaha digital mixing system. The IFB [Interruptible Fold Back] programs are bussed out of the mixer to the Riedel Artist system, and in this way the producers can listen to talent inside the IFB key, as well as the interactions with off-site lecturers/mentors on Skype (who are themselves provided a mix-minus IFB).
This describes one studio's comms requirements and needs to be repeated across all four individual studios. Riedel Artist enables those different spaces to act totally autonomously. Equally, within the Riedel Director control program it's easy to combine all four studios (or any permutation/combination thereof).
According to Rowan the Riedel comms experience has been first class:
"The Riedel comms is an industry standard in Australia. If our students work at any of the large OB outfits they'll encounter the exact same setup — which is enormously reassuring and empowering for our graduates."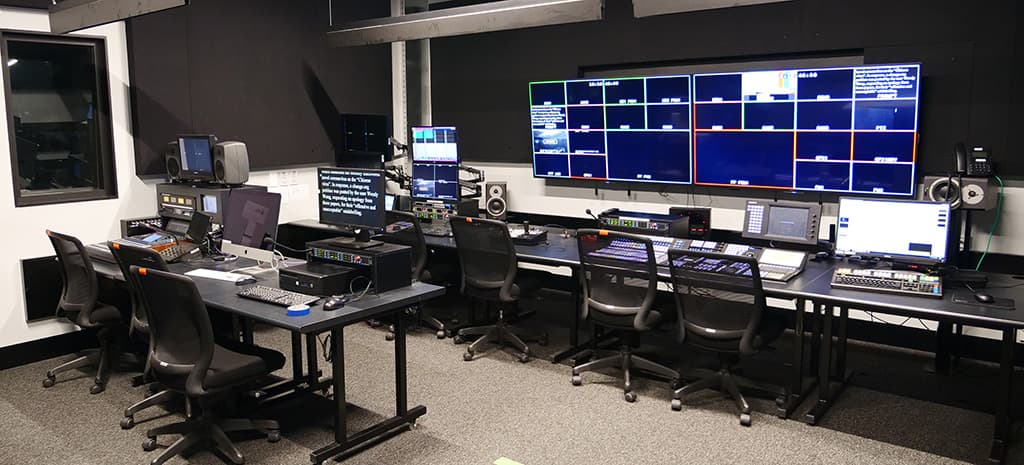 DANCING WITH BOLERO

 
A significant piece of the Media Precinct's comms puzzle is Riedel's wireless offering, Bolero.
The Bolero system provides the freedom for operators to roam about in any of the four studios — the Bolero beltpacks register on the local antenna, for a seamless changeover.
According to RMIT and Rowan Humphrey, the Bolero experience is a real game changer.
"The audio quality is as good as it gets. You get hifi audio quality in your headset. If you have a producer using a talkback panel microphone, it's like they're sitting next to you. It's not like traditional UHF comms where the quality is strangled and compromised — 'it's only comms after all' — the quality is nothing short of superlative."
Audio quality is one thing, but being able to access the full flexibility of Riedel comms via the Bolero pack is an eye-opener:
"A Bolero beltpack is like wearing a talkback panel on your belt because you've got up to six visible Talk, Listen and Source destinations. They could be direct point-to-point to another panel, or they could be listening to a conference, or talking to a group, or listening to a four-wire that could be an incoming IFB, or it could be four-wire talking to a telephone hybrid that's hooked up to a user in the next room or the other side of the world. That ability to have all of those different sources and destinations available at your fingertips and to independently control the level of each… that's powerful."
More for you