Text:/ Christopher Holder
It started with a race car. Or more precisely, it started with a race car driver — Cameron Crick. Or, to be even more precise, it started with the friend of a race car driver who introduced the race car driver to a director of the The Avit Group, Brad Magri.
"One of our guys introduced us to Cameron, who was trying to make his way in V8 motorsports, and I was really impressed with this young man. He shared our values and we just wanted to find a way of helping him. So we worked out a sponsorship deal."
Cameron Crick races in the V8 Super 2 circuit, in the Eggleston Motorsport team. The Avit Group's sponsorship isn't some kind of postage stamp on his helmet, it's a principal sponsorship — Avit has the biggest sticker on the side of car… if you saw this car for the first time, you'd say it's the Avit car.
'The vicarious fantasy of a frustrated revhead fulfilled', you might say. But you'd be wrong.
"No, I wasn't a fan of motorsport," Brad confesses. 
"I'm a technology and music geek. I've never paid attention to motorsport," confirms Avit Group's Senior BDM Adrian Davis. "But our sponsorship of Cameron Crick has been a great strategic move."
"We had people in the industry ringing me during a televised race in disbelief: 'I had no idea you were sponsoring V8s!'
"And then: 'by the way, we've got this project we want to talk to you about'."
"Cameron's been like a silent BDM!"
"It's got us over the line with people who know we're competent and skilled enough but weren't convinced our business had enough runs on the board to be a totally safe pair of hands."
"Right. It's almost like: 'if you're big enough to have your own race car, then you're big enough to take on this project!"
SIGNING UP TO NION
Speaking of the 'Silent BDM', Cameron Crick wasn't quite so silent when he heard that the ARDC (Australian Racing Drivers' Club) was planning on upgrading its public address and audiovisual facilities at Sydney Motorsport Park, Eastern Creek, Sydney. The Avit Group was invited to submit a tender and won the job. Naked nepotism? Not quite. Brad and Adrian put the success of their bid largely down to a willingness to repurpose the two ageing Peavey Media Matrix Nion DSPs. Adrian Davis: "The Sydney Motorsport Park staff are familiar with the operation of Nion and that was a non-negotiable part of the hard-scope tender. I think we were the only crew willing to do the Media Matrix programming."
The Nions direct traffic and provide processing for an extensive multi-zone, multi-prioritised (six levels, in fact) public address, EVAC and commentary system that covers every possible patch in the park that might have people watching or working.
"The audio prior to the upgrade was terrible," explain Adrian Davis. "It was just noise rather than spoken word. V8s are loud and the Park was driving their amps into distortion in an attempt to be heard over the engine noise, which only made things worse. The system wasn't fit for purpose. People didn't know what was going on."
""
if you're big enough to have your own race car, then you're big enough to take on this project!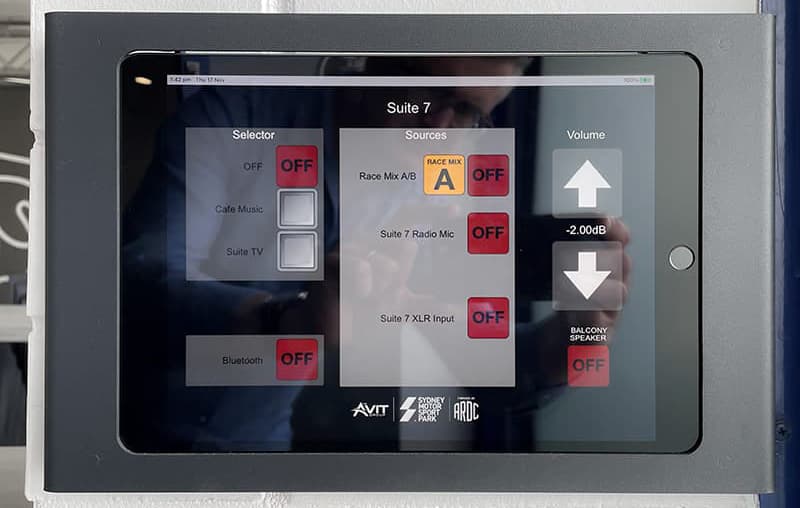 ONE JOB TO DO
The new system is a sophisticated networked audio setup relying on Dante for signal transport to distributed Australian Monitor (low impedance) and QSC (100V line) power amps, then onto One Systems surfacemount loudspeakers — predominantly ONE.SP8 eight+one-inch coax enclosures, including weatherproof models for the grandstands and other outdoor areas. For the wide-open outdoor spaces the evergreen public address horn (from Australian Monitor) reigns supreme. "Audio coverage is within ±2dB across the whole site," according to Adrian Davis.
In full swing the precinct still sounds like a race park, with the familiar sonic signature of late reflections from the acres of coverage. But the audio fidelity is such that those late arrivals aren't eviscerating the intelligibility.
"We spent a lot of time experimenting with time alignments. But it was impossible to pin point where Time Zero was. In the end we worked on trying to get audio to each amplifier as quickly as possible and relying on the intelligibility of the amps and speakers. Our STI numbers are strong."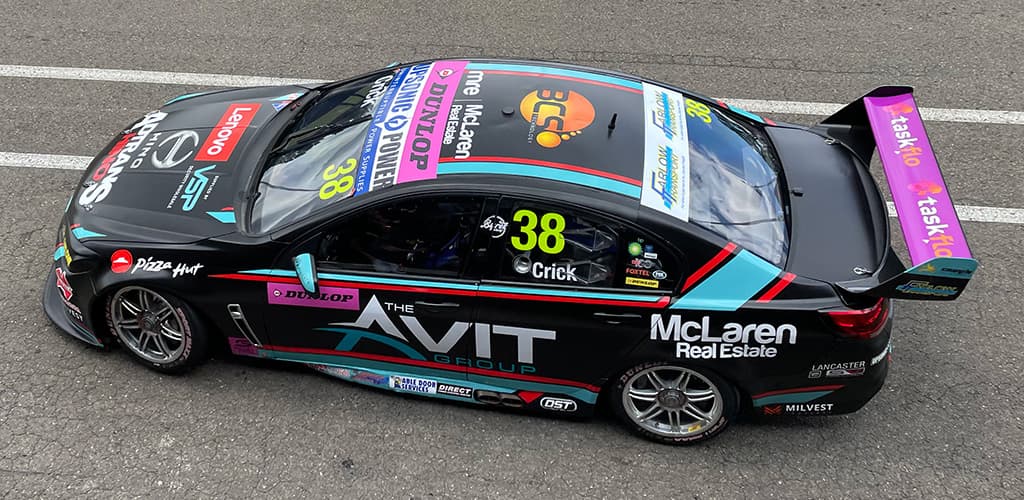 THE AVIT GROUP RACING
The Avit Group was established in 2018 and has come a long way in a short time. But when Operations Manager, Brad Magri, decided to partner with Cameron Crick on a sponsorship he had no way of anticipating that it would represent the pointy end of an innovative marketing strategy.
"It's been a real conversation starter and, interestingly, has given real us credibility as a younger company. We like to think of ourselves as the 'nice guys' of AV and the Cameron Crick sponsorship has aligned with that. 
"Some of us came through the ranks of a large integrator and we were concerned that customer service was being eroded. The Avit Group gives us the chance to invest into our customers.
"For example, if we sell you a $5000 DSP, then we'll tune the room for you and ensure you get the best results. Another example is our R&D. We work on proofs of concept, to be convinced our solutions will perform as intended on site. This stuff really matters to us."
AV.Technology caught up with Brad, Adrian and the team at Sydney Motorsport Park during a 'Ride Day'.  Eggleston Racing booked out the park and invited friends and partners along to bring their car for a spin while others were invited to experience a hot lap in the passenger seat.
It was a golden opportunity for Senior BDM, Adrian Davis, to experiment with a new Marshall CV226 lipstick camera.
"Marshall cameras are the 'weird and wonderful' of broadcast cameras, and I was keen to do a technology demo of the CV226 — the newest generation of high-definition lipstick cameras from Marshall. And it's tiny. As you can imagine, in a race car, anything of significant mass is scary — if it comes loose in a crash, it could take someone's head off. And the race team isn't going to countenance anything that distracts or is intrusive.
"Marshall cameras are often used in motorsport, and provide a unique insight into what's happening inside the cabin for the driver — the G forces; the extreme movements and reactions of the driver as they negotiate a chicane; or a near-miss with another car. The camera provides an HD image and, via a Magewell Ultra Encode encoder, we're transmitting it back to the pits via 4G. Magewell provides robust hardware encoding that allows us to rely on the signal transmission and receive without fear of software crashes. The construction matches its reliability, and at a price point that allows for easy expansion of new and existing systems.
"Why are we messing with the Marshall camera and not just leaving it to the broadcasters? The idea is Eggleston Motorsport can use footage from the camera to provide friends or sponsors with a souvenir of their hot lap. It's another way of amping up the experience.
"I'm very familiar with Marshall's miniature box cameras, but this lipstick camera is next-level tiny. Marshall cameras have been a go-to problem solver for years, and the CV226 will go places not even other Marshall can get to."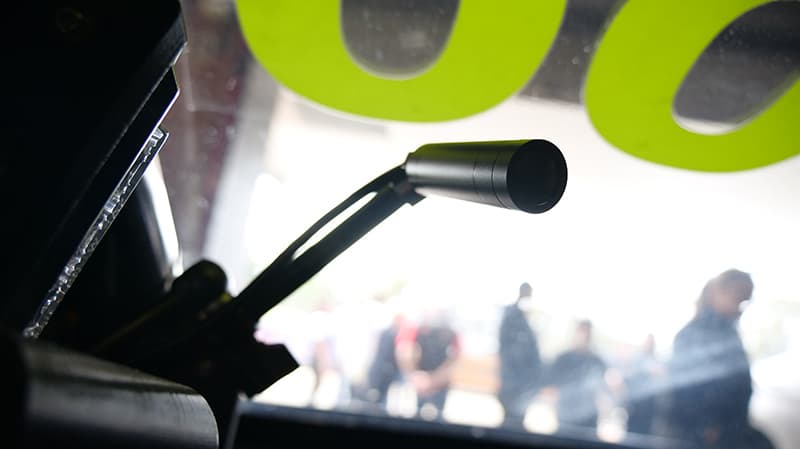 SUITE AS
Within the hospitality suites the new system allows sponsors to jack into the in-room AV via a Xilica Bluetooth wallplate. ("We love those little Xilica wallplates. Just plug in an IP address and you're away.") An iPad in a shroud on the wall hosts the Media Matrix HTML5 Kiosk2Go GUI for touch control of the room configuration.
The Nions handle the priority ducking of the various announcements and commentary.
"Corporate hospitality has come a long way," muses Brad Magri. "People expect a level of comfort and AV that's at least as good as what they can achieve at home. Sydney Motorsport Park can now confidently provide that."
LAPPING IT UP
"The AV systems are now scaleable," observes Adrian Davis. "It's easy to throw extra Dante devices on the network. If they decide to swap out for a different DSP down the track, they can now do that. Before the upgrade, it was inflexible — miles of copper running 100V line.
"When there's a big race day, Gravity Media or NEP will come in here and they'll want to close down just about all the public address so they can capture the best possible sound of V8 engines," Adrian Davis goes on to explain. "We now have granular control over the zones and the nature of the program being fed to that zone. Keeps the OB guys happy."
"It's amazing to see the difference the new public address system makes on race day," observes Brad Magri. "Previously, people just disregarded the PA. It was unintelligible. Now you can see the impact of the announcements — they're heard and people respond… they'll rush to a better vantage point or they'll get ready to suit up for their hot lap. There's way more engagement."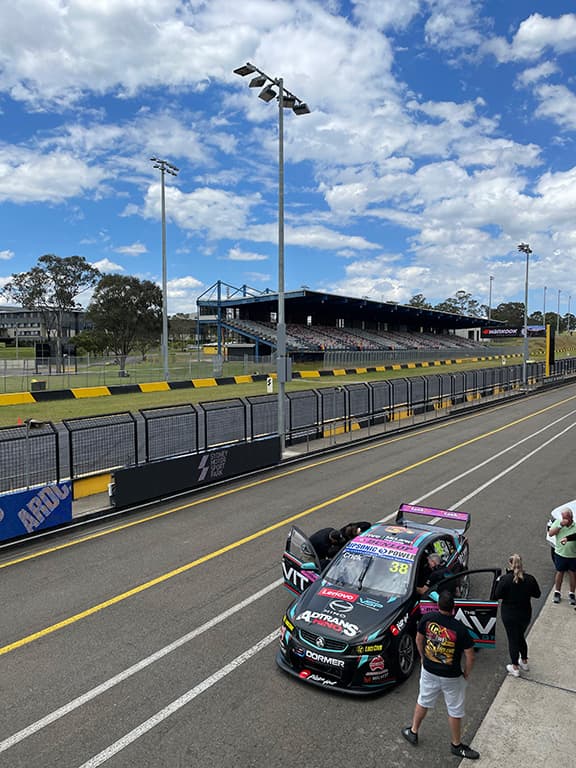 More for you