Most gear in the AV world is designed with a specific purpose in mind. You know, lights for the stage, amps for speakers; no surprises. It might even perform the same function across many verticals. But it is still 'like for like'. Every now and again, some bright spark looks at an item and says: "how about we do something different and put this odd-shaped peg in the wrong hole?" 
At Australia's museum of screen culture, ACMI, staff are accustomed to thinking outside the square. They regularly swing between event types — with everything from museum and gallery installs to concerts, events and corporate events on the schedule — and their gear gets used in myriad scenarios. From this mindset came the deployment of 2 x Panasonic AW-HN130KEJ PTZ cameras and 2 x Panasonic AW-RP60GJ controllers. 
Far from being staid room monitoring devices, these cameras are specifically employed as vision sources into events. ACMI tech Dylan Bailey explains: "The PTZs are designed to be all for events. We basically put one in each of our main spaces. We use them as main cameras, depending on the event. Sometimes we use a pair of cinema cameras and use the PTZ as either a locked-off wide shot or multiple angles to mix in."
Output resolution scales up to 1080 @ 60fps over SDI or HDMI and the IP feed can send a 1920×1080 H.264 stream at 60fps. This has been more than enough for live in-house production to date, but the team are always progressing and have also purchased Panasonic's flagship 4K PTZ camera (the AW-UE150) for further evaluation. In addition to a higher 4K resolution, the AW-UE150 brings more advanced streaming functions which may open up a number of new application opportunities.
EYE ON THE ROOM
Each room (Swinburne Studio and Gandel Digital Future Lab 1) has the PTZ permanently installed. They are complemented by a dedicated RG6 controller per space. Cameras outputs are over IP at full resolution, and each can be selected as an input and controlled from the other room's controller. SDI links are also included for redundancy in case of any network problems.
These cameras were originally commissioned before the world of pandemic lockdowns. With the venue shuttered to physical access, many ACMI staff continued working from home. Remote programming and testing lighting routines is entirely possible with an eye in the room. Dylan found that: "The cameras were great. I did 99% of what I was working on with the cameras live, so I could see the room in real time from home. This was super helpful". Rather than using a direct IP connection, he "setup a VLC stream, which ended up being high resolution and fast!"
The cameras are allocated a segment on their corporate network, with access granted only to ACMI AV staff. When the venue was closed, many of them started using these cameras remotely, even if only to see how a room was laid out or what gear was in there. With everything now re-opened to the public, this feature is still being widely used. Dylan continues: "I use it as a way to see what's happening when I'm not there. I can jump in and tweak a setting or program even though I'm offsite."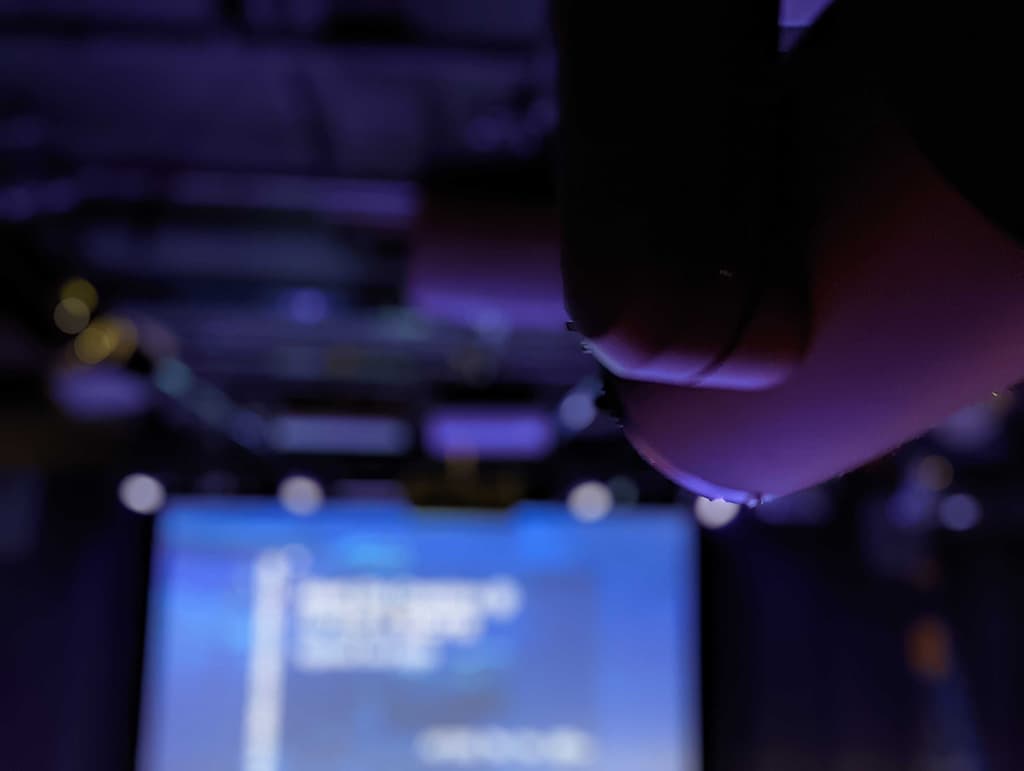 ZOOMING IN
Another unexpected bonus usage for these cameras was discovered when testing and trialing the units. ACMI staff found that they could pan up to see the ceilings, then zoom in on the rigging points to make sure all is well. This procedure is now part of their safety maintenance plan, removing the need to lug ladders around as often for periodic checks. With 20x optical zoom (and 10x further digitally), getting a close view is easy.
Taking due consideration of safety and warranty concerns, using gear outside recommended practice is a great way to get good returns from your AV inventory. Using the intrinsic qualities of an item to perform a function that it was not intended for is clever. Doing it on the fly is AV genius, a trait ACMI is renowned for.
Read the full story of ACMI's technical upgrade here.
More for you